First the Question: There is NO difference between being moral and religious, AND, being righteous and spiritual. True or False?
Take a moment to respond at the LLM Question of the Day
And now the answer to the LLM Question of 3-16-2012
Question: God divided Israel, in the days of the Apostle Paul, into two groups. True or False?
Answer: TRUE! The LORD directed the Apostle Paul to write concerning the 'elect' and the 'rest' of the religious self‑righteous law‑keepers. The 'elect' found the righteousness they sought; but the rest were blinded. Thus God divided Israel in Paul's day into two groups. Romans 9:29-33, and, Romans 11:5-6. Now, out of the 701 responses we received to this question, ONLY 52.6% of you got it right! Today begins a brand new message series. Therefore, NOW, let us take a look at,
The Grace of God, part 1 of 9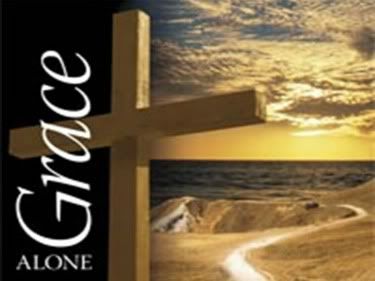 The Apostle Paul, who was directed by the Holy Spirit to say so much about the Grace of the God of all Grace, said something that no living saint will say at this time, "The GRACE which was bestowed upon me was not in vain; but I labored more abundantly than they all; yet not I, but the Grace of God which was with me." (1 Corinthians 15:10).
According to 1 Peter 5:10, the God of the Bible is called "THE GOD OF ALL GRACE." According to 2 Cor. 9:8, "God is able to make 'ALL GRACE' abound toward you (saints), that ye always having 'ALL SUFFICIENCY' in all things, may abound to every good work." God's saints are expected to do good works, to be steadfast, unmovable, 'ALWAYS ABOUNDING' in the work of the LORD. (1 Corinthians 15:58).
Well might we ask, "how much Grace is all Grace?" God is the God of ALL Grace; and all Grace is available for each and every saint. Every person, who is a saint, is a saint by God's Grace. This means that every saved person on this earth is "saved by Grace through faith, and that not of yourselves; the gift of God; not of works, lest any man should boast." (Ephesians 2:8-9).
No unsaved person is required by God to work for His Grace or for eternal salvation during this present age and dispensation of Grace. "The Grace of God that bringeth salvation hath appeared to all men." (Titus 2:11).
Note when the eternal omniscient God of all Grace purposed this universal Grace (but NOT uni­versal salvation), and just how it appeared, "God, Who hath saved us and called us with a Holy Calling, NOT according to our works, but according to His own purpose and Grace which was given us in Christ Jesus before the world began; but is now made manifest by the appearing of our Savior Jesus Christ, Who hath abolished death, and hath brought life and immortality to light through the Gospel." (2 Timothy 1:9-10).
INCREASING SIN, INCREASING GRACE
Concerning LAW and GRACE, we read in John 1:17 and Romans 5:20-21, "The LAW was given by Moses; GRACE and truth came by Jesus Christ". "Moreover the LAW entered (which naturally means it must exit) that sin might abound: But where sin abounded GRACE did 'much more' 'over abound'; that as sin hath reigned unto death, so might 'GRACE' reign through righteousness unto eternal life by Jesus Christ our LORD." With John 1:17 we should read also John 1:16: "Of His (Christ's) fullness have all we received and 'GRACE UPON GRACE'." Grace upon Grace is Grace a plenty!
If you were given supernatural power for a short period of time to behold and perceive all of the wicked thoughts, words and deeds of the more than two billion people living now in so called Christendom and in all the heathen countries, you would know more of the meaning of abounding sin. But where sin abounded Grace did, and doth, much more over abound.
This means that the vilest of the vile, the most wicked person on this earth, and all other members of the human race, ranging from the most moral, benevolent, sincere, conscientious, zealous, religious person to the most wicked, can find God's saving Grace altogether sufficient to transform either the self‑righteous, respectable sinner or the wicked unrighteous criminal into a saint, without any good works or religious doings on the part of any of them. Salvation is the gift of God. "The free gift of God is eternal life through Jesus Christ our LORD." (Romans 6:23). Righteousness is the gift of God's Grace.
AND NOW, GOD'S ANSWER TO JOB'S QUESTION
Inasmuch as the Infallible Word of the Infallible God plainly states that no unrighteous person can enter the kingdom of God or get into heaven (1 Corinthians 6:9), and further states in no uncertain language, "there is none righteous, no not one" (Romans 3:10) , every sane, rational person on this earth should join with Job in not only asking with him the question of Job 25:4, but he should never, never let a day or an hour go by without searching diligently until the question is answered. THEN he should not lose one moment in deciding to receive the cleansing and the justification which concerned Job when he asked this question: "How then can man be justified with God?, or how can he be clean that is born of a woman?"
How can a child of Adam be cleansed of his sins? How can he become a righteous person? The religions of the world, including the RELIGION of "Christianity", have offered thousands of substitute speculations and false hopes; have been led by Satan, the god of this age, to invent a multitude of futile religious schemes to atone for sin and make the sinner fit for some kind of existence after death.
It is ever and always true, as written in Proverbs 16:25 and in Luke 16:15 (the words of the LORD Jesus), "There is a way that seemeth right unto a man; but the end thereof are the ways of death", "that which is highly esteemed among men is an abomination in the sight of God."
Satan delights to corrupt the minds of even the church members in so called Christian lands from the simplicity that is in Christ. (2 Cor. 11:1-3). Satan, transformed into an angel of light, has thousands upon thousands of deluded religious men and women, to help him succeed in bringing in the damnable heresy, and removing religious church members from the Grace of God. He causes them to trust in another Gospel. (2 Cor. 11:1-3, and 2 Cor. 11:13-15; 2 Peter 2:1-2 and Galatians 1:6-9). We are told in Acts 15:24 that the souls of the victims of the religious messengers, who pervert the Gospel of Grace and frustrate the Grace of God, are subvert
AND THEN, JOB'S QUESTION ANSWERED IN GALATIANS
As we read Galatians 2:11-15 and see how the Apostle Peter was caused by religious brethren to compromise, we should listen attentively to the Apostle Paul's words to Peter in Galatians 2:16, which is indeed the answer to a part of Job's question, "How can a man be just with God?" Until we know the truth of Galatians 2:16, we cannot expect to understand the truth about 'all' Grace in Paul's Epistle to the Ephesians.
Hear Galatians 2:16, "Knowing that a man is not 'justified' by the works of the law, but by the faith of Jesus Christ, even we have believed in Jesus Christ, that we might be justified by the faith of Christ, and not by the works of the law; for by the works of the law shall no flesh be justified."
Surely Peter had known this great truth. Had he forgotten it? Did religious brethren put so much pressure on him that he forgot the truth which once he knew? This is wonderful news, good news for the human race. Accept it at full face value. Believe it with all your heart. The foolish Galatians turned against the Apostle Paul when he tried to keep them from falling from Grace. (Galatians 5:1-4). If you proclaim God's 'all Grace' message today, you may get into trouble with religious church members, but you will stand well with the LORD.
The Epistle to the Galatians should have been addressed, "To the FOOLISH GALATIANS." (Galatians 3:1). 'TROUBLERS' had made them 'foolish'. (Galatians 5:12; Acts 15:24). They troubled them by perverting the Grace message which The Apostle Paul received by direct revelation from the RISEN Christ. (Galatians 1:11-13).
The God of all Grace will most definitely judge every religious messenger who frustrates the Grace of God and perverts the Gospel of Grace by bringing over Israel's Old Testament sacraments and religious doings (including water baptism) into this present age and dispensation of Grace. Paul was directed to write: "I would that they were even cut off who trouble you." (Galatians 5:12). Christians are not under the law, but under Grace. (Galatians 3:25; Romans 6:14).
The religious, self‑righteous, law keepers of the Apostle Paul's day hated him for preaching Acts 13:39, "by Jesus Christ all who believe are justified from all things, from which ye could not be justified by the law of Moses." When he said, "Lo, we turn to the Gentiles" (Acts 13:46), and preached to them justification by Grace through the Faith in the perfect redemptive work of the LORD Jesus Christ, the religious law keepers stoned him until they thought he was dead. (Acts 14:19-21). And these same types would do the same today to the Gospel of Grace Preacher if they could.
Several years later the LORD directed the Apostle Paul to write concerning the 'elect' and the 'rest' of the religious self‑righteous law keepers. The 'elect' found the righteousness they sought; but the rest were blinded. Thus God divided Israel in Paul's day into two groups.
"The Gentiles, which followed not after righteousness, have attained to righteousness, the righteousness which is of faith." "Israel did not attain; because they sought it not by faith." "They stumbled." (Romans 9:29-33). Then Paul added, about 60 A. D., "There is a remnant according to the election of Grace. If it is by Grace, it is no more of works." (Romans 11:5-6).
***
In Ephesians 1:13 the Holy Spirit through the Apostle Paul declares that men are saved and sealed by hearing and BELIEVING the Word of Truth, the Gospel of your Salvation. Therefore, here, now, is declared unto you the Word of Truth, the Gospel of your Salvation: "that Christ died for our sins according to the scriptures; and that he was buried, and that he rose again the third day according to the scriptures" 1 Corinthians 15:3-4. BELIEVE today. The time is short.
So There You Have it!
Spread this message to everyone you know, far and wide.
Grace be to you and peace, from God: our Father, and The LORD Jesus Christ.
In The LORD Jesus Christ,
The Lion and Lamb Ministry
Pastor David Picos, D.D.
Minister and Ambassador for Christ in the Ministry of Reconciliation (2 Cor. 5:18-20)
Subscribe Here to the LLM Newsletter , Follow LLM on Twitter , Subscribe to LLM on Youtube , LLM on MySpace , and FaceBook