.
There is a great difference between God's prophesied program, 'BUILD AGAIN THE TABERNACLE OF DAVID' Amos 9:11-15, and God's UN-prophesied ETERNAL PURPOSE 'BUILD UP THE BODY OF CHRIST.' Members of the Body of Christ, in this Age, Economy, and Reign of Grace, are to be established according to the Apostle Paul's gospel, Romans 16:25.
Now...When the Jews started returning and migrating back to the Land, and when Israel as a Nation was reborn in 1948, and captured Jerusalem in 1967, BEFORE Christ's return for His Body, and because of the chaos in Europe and Asia, Bible teachers and Evangelists, who were formerly Pre-Tribulationists became Post-Tribulationists. Therefore, they stopped believing in the imminent coming of Christ, for His Body, the Church; but on the contrary they began to ridicule those who teach what they call,
'the any‑moment theory.'
With them, it's the GREAT TRIBULATION that is imminent, not the RAPTURE, or Harpazo, of the Body of Christ.
What these numerous so called pastors, preachers, and evangelists, FORGOT was God's
principle
for this
parenthetical period
for members of the Body of Christ, "
who have been turned to God from idols, to serve the true and living God, and to wait for His Son from heaven"
1 Thessalonians 1:9-10, "
whose citizenship is in heaven and look for the appearing of the Lord Jesus Christ to fashion their bodies like unto His body of glory"
Philippians 3:20-21. That
principle
is to walk by Faith and not by sight. 2 Cor. 5:7-8. THEY walk by 'SIGNS,' especially 'SIGNS' that pertain to Israel and their 'TIME OF TROUBLE' and their
prophesied
'MESSIANIC KINGDOM.' They no longer believe that the Child of God should look for the Son and not for signs.
Now let's look at
The "Sign" Gang
As you know if you are a member of The Lion and Lamb Ministry, I have been posting message after message endeavoring to establish saints according to Romans 16:25, and persuade sinners to be reconciled to God, as is the Body of Christ commission as Ambassador's for Christ in the Ministry of Reconciliation, 2 Cor. 5:18-21, to believe Romans 5:20-21 and Ephesians 2:8-10.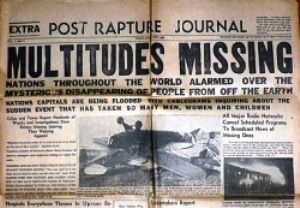 What a privilege to proclaim the unmixed Gospel of the Grace of God and show poor, condemned, ruined, ungodly sinners, that where sin abounded, Grace doth much more abound; and to explain from God's Word how they can be saved without religion, works, or worthiness.
Therefore, you can now see even clearer, what a
spiritual crime
it is to endeavor to make God's Grace Salvation more effective, more better, by adding any of man's doings to the perfect redemptive work of the perfect Christ, Who, on the cross, said '
FINISHED
,' and then and there put away sin by the sacrifice of Himself. Hebrews 9:26. What blessed satisfaction and peace to trust and rest in Christ's perfect work, and thereby receive from God, as His free gift, His own perfect Righteousness (2 Cor. 5:21; Romans 10:4-10), His free gift, eternal life through Jesus Christ, our LORD (Romans 6:23); and then to know that the believer fulfills the righteousness of the Law by walking in the Spirit (Romans 8:4), and finds God's abounding Grace altogether sufficient to enable him to thus walk (2 Cor. 9:8 and Titus 2:11-14).
I could not help myself from comparing the messages which I heard some of the so-called outstanding Pre-Tribulationists deliver just prior to the year 2000, and then in the aftermath of the 9-11-2001 tragedy, and now. Just prior to the year 2000, or Y2K, many of the 'sign' Pre-Tribulationists were sure, or tried to persuade their followers they were sure, that the revived Roman Empire was even nearer than just around the corner and the Church, the Body of Christ, would be Raptured very, very soon, if not sooner, because of the Y2K computer mess, and the political activities of the European Union. Ok, so that came and went.
Then the 'sign' Pre-Tribulationists had to turn to Osama Bin Laden. So 9-11 was the big sign; and surely he and his followers would be the long-­expected 'Beast' of Revelation 13. When that didn't materialize, they have a new 'sign' for their followers who must have signs (Matthew 16:4, and 1 Corinthians 1:22). And that is, what is now going on in the United States, along with what's happening in Europe, Russia, and Asia, is prophesied in Psalm 83 and Ezekiel 38-39. So that now all of the well-known and accepted Pre-Tribulationalists must have some messages on 'Gog,' 'Magog,' 'Gomer,' 'Tubal' and the 'Prince of Meshech' and convince their hearers that what the ruler of Russia is doing is in fulfillment of Ezekiel's Prophecy and proof positive that very, very soon the Lord Jesus, in a moment in the twinkling of an eye, will come for His Body, as the Rapture of 1 Thessalonians 4:13-18 and 1 Corinthians 15:51-54 will take place. Shortly after the Rapture, they say, the 'lawless one' of 2 Thessalonians 2:1-11 shall appear; and with his appearing the 'Great Tribulation' of Matthew 24:21 will be on the earth.
As the members of The Lion and Lamb Ministry already know, and I would have all of our readers understand that I am a Pre-Tribulationist and therefore am anything but the scoffer of 2 Peter 3:3-4, who says, "
where is the promise of His coming?"
I believe with all my heart that the omniscient and omnipotent God, "
worketh all things after the counsel of His own will,"
Ephesians 1:11; that He not only "
knew the end from the beginning,"
Acts 15:18, but that
HE CHOSE
before
the foundation of the world those who are to make up the Body of Christ, the 'Joint‑Body' (Sussomos) of Ephesians 3:6, Which is to be presented to Christ as glorious, holy, spotless, and blameless. (Ephesians 5:26-28; Ephesians 1:4-5, and Titus 1:2-3). I know that God will complete His work, making 'THE ONE NEW MAN' of Ephesians 2:15
during this present age and dispensation
; and that He will, in His own time, bring the culmination or consummation of Ephesians 4:13. Also, I am sure that the perfecting of this masterpiece of God does NOT depend upon what Putin, the Rockefeller's, Bilderberger's, the Rothschild's, the Satanists at Bohemian Grove, or what the U.S. Gov. and the UN will decide to do concerning the partitioning of Israel and Jerusalem.
What you all, Children of God, have to wrap your minds around, is that in a sense we are living in a time-less, religion-less, and sign-less age. But we should know, and be rock-solid on, that according to God's sure Word of Prophecy, The Bible, that blind Israel and unbelieving Gentiles have a really, really, really BIG reason to very much fear the future; for
"the Lord Jesus shall be revealed from heaven with His mighty angels, in flaming fire taking vengeance on them that know not God, and that obey not the gospel of our Lord Jesus Christ: Who shall be punished with everlasting destruction from the presence of the Lord, and from the glory of His power: When He SHALL HAVE COME (ELTHE) to be glorified in His saints, and to be admired in all them that believe."
2 Thessalonians 1:7-10. The word
'ELTHE'
properly translated, '
SHALL HAVE COME,
' most assuredly suggests that the Body of Christ
SHALL HAVE BEEN RAPTURED
before Christ, comes to the world of unbelievers and ungodly sinners to execute wrath.
***
In Ephesians 1:13 the Holy Spirit through the Apostle Paul declares that men are saved and sealed by hearing and BELIEVING the Word of Truth, the Gospel of your Salvation. Therefore, here, now, is declared unto you the Word of Truth, the Gospel of your Salvation:
"that Christ died for our sins according to the scriptures; and that he was buried, and that he rose again the third day according to the scriptures"
1 Corinthians 15:3-4. BELIEVE today.
The time is short.
So There You Have it!
Spread this message to everyone you know, far and wide.
Grace be to you and peace, from God: our Father, and The LORD Jesus Christ.
In The LORD Jesus Christ,
The Lion and Lamb Ministry
LLM - Ambassador for Christ in the Ministry of Reconciliation (2 Cor. 5:18-20)